The Delta Middle School addition is coming along so quickly that it seems the interior transforms weekly. With finishes being installed, the building is starting to look like the bastion of braininess, the edifice of education, the premises of pedantry that the Delta School District needs for our growing student body. Check out some before/after shots to see changes that have happened in the last month or so!

There's no better place to start than the front. Check out that building facade. What a difference some masonry makes! Next time you drive by, you'll notice that sunshades are up over the windows, exterior doors are painted, and the parapet is trimmed out.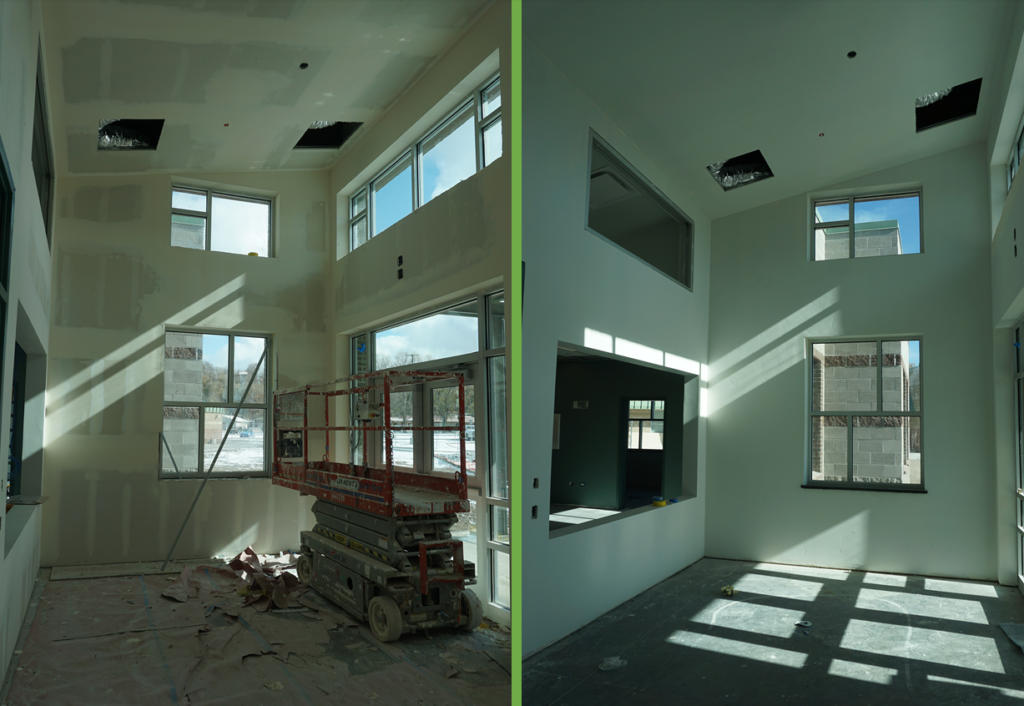 The front entry has gone from being very clearly under construction to nearly ready for office occupancy. We're looking forward to seeing the lights, mechanical trim-out, and flooring go in over the next month.

Paint has transformed the cafeteria ceiling. Granite window sills are installed, and we'll be sure to post pictures as the VCT flooring goes in.

Making our way back to the Band and Choir rooms, we need to stop for a look in the bathrooms. Tile is getting installed, and windows and solar tubes brighten up the space.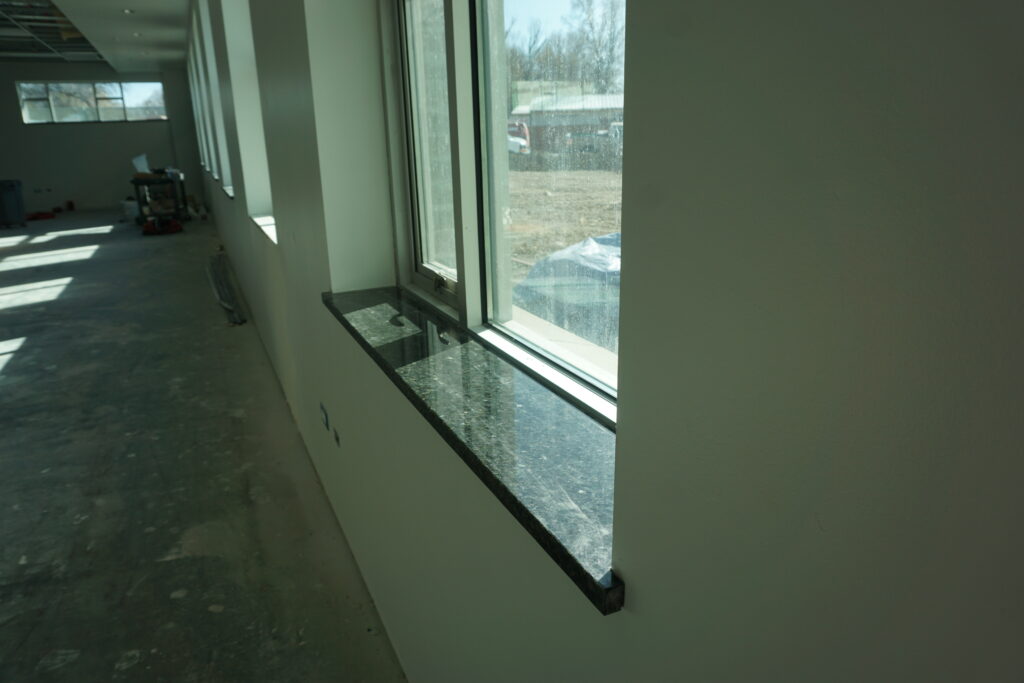 Here's a sneak peek at the Band Room. Granite window sills are nearly completely installed throughout the building.

As of this week, there are now two ways to reach the second floor. The above images show the metamorphosis of the first space from an elevator shaft to a fully operational elevator. KGCI is currently framing in and finishing around the elevator doors.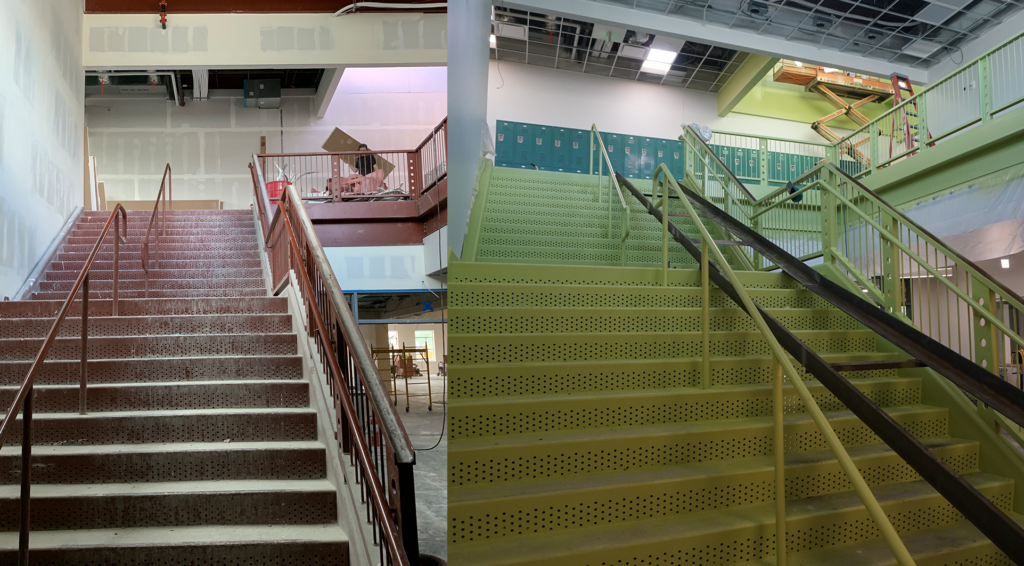 The second way to access the second floor is, of course, the stairs. The above images show what a difference some paint makes — both on the stairs and on the walls. Lockers have also been installed, as well as the ceiling grid.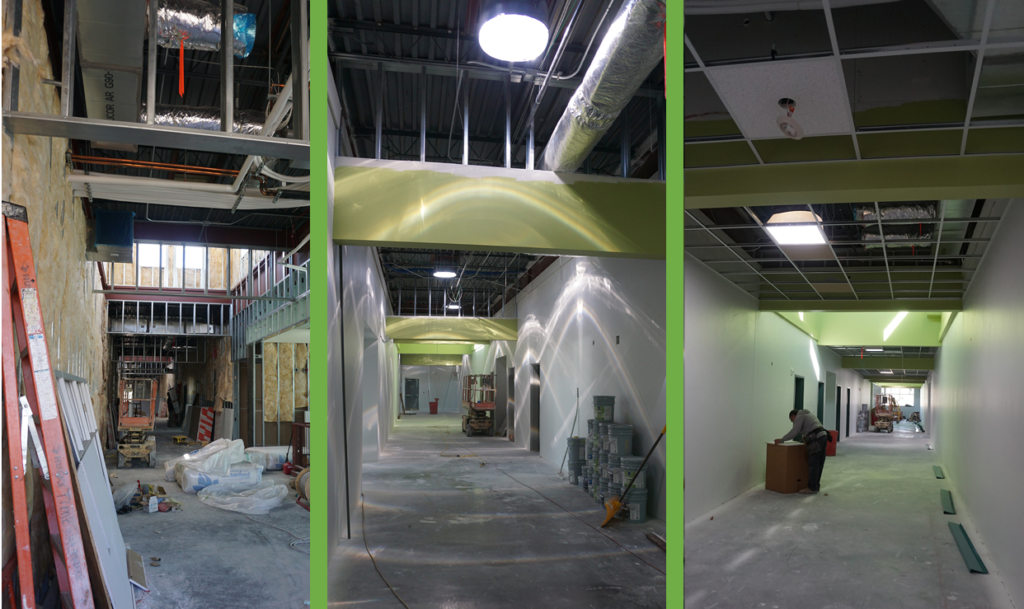 Last, but certainly not least, is the upstairs corridor. These images show a four-month construction period, from framing to finishing. Notice the light in the middle picture. This is a solar tube, which penetrates the ceiling and roof to let in natural daylight. By the time the third picture was taken, lighting diffusers had been installed, which is why the light is no longer diffracted along the walls.
Next up for finishes: flooring and cabinetry. This school is going to look amazing!